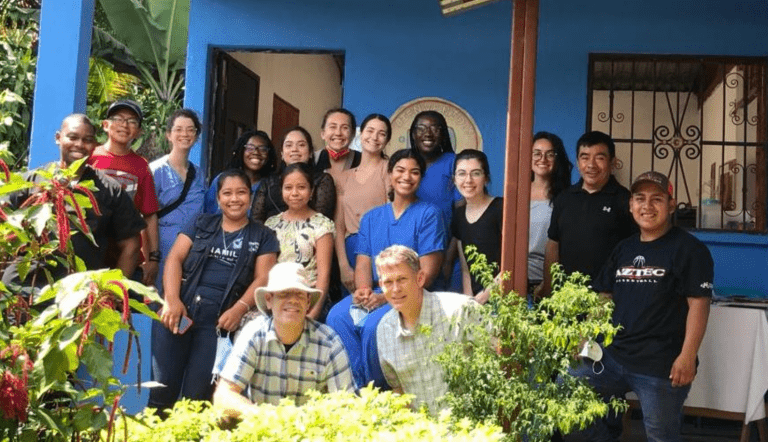 Almost all of our care is delivered by community health workers who speak our patients' languages and understand their cultures. For us, that's the way it always has been and will be. But our patients also benefit from ongoing care from a team of trusted partners from the University of Cincinnati (pictured above).
These are doctors and students of medicine and public health who are passionate about global health and commit to four visits a year – and telemedicine consults during Covid – to care for our patients in rural Guatemala.
After a visit in November, the team shared their reflections.
Here are some thoughts from Emily Furnish, a resident physician:
It was our first day at the clinic in Chichimuch, and I could already tell that we would be very busy. I was assigned to work Intake, and there was already a line of patients outside waiting to be seen. After Kylie and I finished taking vitals and writing down the chief complaints for all of the patients, I wanted to help see people who were waiting. Since there were no more private rooms available for interviews, I decided to start conducting patient visits on our bus. The first woman I saw came to the clinic to discuss stomach pain. Upon first glance at the intake sheet, I figured that the visit would be fairly straightforward. I introduced myself and my translator, Frederick, as I sat down at one of the aisle seats in the center of the bus–my new office.
As the interview progressed, something seemed off; even though I don't speak fluent Spanish, I could tell from her body language and tone that there was more on her mind. I finally said, "This pain seems especially troublesome to you. What do you think brought all of this on?" When I dug deeper, she revealed to me that the stomach pain started after her husband left home 1.5 months ago. I asked her, "When is he coming home?" to which she responded that he was possibly gone forever; he had picked up and left without telling her, leaving her with 7 kids to care for. I then asked if she had support at home, assuming she would at least have her mother, or a friend in her village, to lean on for help and emotional support. Sadly, she replied that she was truly alone, with no friends or family nearby. Her mom lived hours away by foot in a neighboring village, but she felt ashamed that her husband had left and did not want to worry her mother, so she had kept his departure to herself.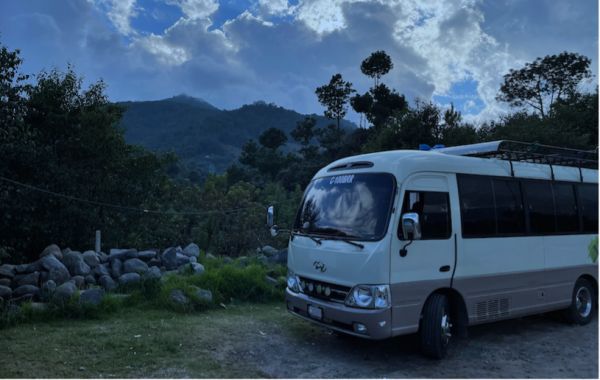 So, there I was, on a bus with an understandably distressed patient and a 19-year-old translator, who was doing his best to relay the isolation and desperation of her situation to me. Perhaps we were the only people she felt that she could trust, a thought that made my stomach sink. I looked out at the landscape, and for the first time thought that it was secluded–detached, even–as opposed to expansive and beautiful. Being left to fend for herself and 7 children in a rural village, with little to no resources, must have felt more staggeringly suffocating than I can ever imagine.
Despite all of the complex medical pathologies I have seen in residency thus far, this was a time in which I truly felt like I was unqualified to provide competent care. Who was I, a total stranger, to give this woman any advice? I felt out of my depth, unprepared to handle the emotional gravity of what this patient had shared. I sat, the sun coming in through the window of the bus and hitting my back, listening to her and wishing that there was more that I could do.
That truly was the theme of the trip: despite all of the prep work, supplies, and collaboration built up over the years with these communities, we still wish we could do more for our patients. I told her that we would be following up with her frequently, both via TeleHealth and at the next in-person trip. "Please know that you are not alone, and that we will be your support system even when things are hard." She expressed immense gratitude to me and Frederick.
Later, I realized that this encounter was less about solving concrete problems and more about being present in the moment and taking the time to do what no one else had done–listen, and make the patient feel heard.
I am not naive to think that I was single-handedly able to provide all of the emotional support that she will need moving forward, and I certainly did not feel deserving of her gratitude at the end of the visit. However, that experience further confirmed to me that it really is possible to foster and maintain continuity in a global health setting. When I looked back in the patient's chart after the visit, I saw that she had been a patient of the clinic for several years, and that many of our residents who graduated had cared for her before me. With our new TeleHealth model, I feel even more confident that we can provide better care and continuity with our patients–not just in terms of medicines and supplies we bring on trips throughout the year, but also providing a safe and non-judgemental space for patients to share their lives with us.
We are so honored to have thoughtful, talented physicians like Dr. Furnish sharing their time and expertise with our patients and team.